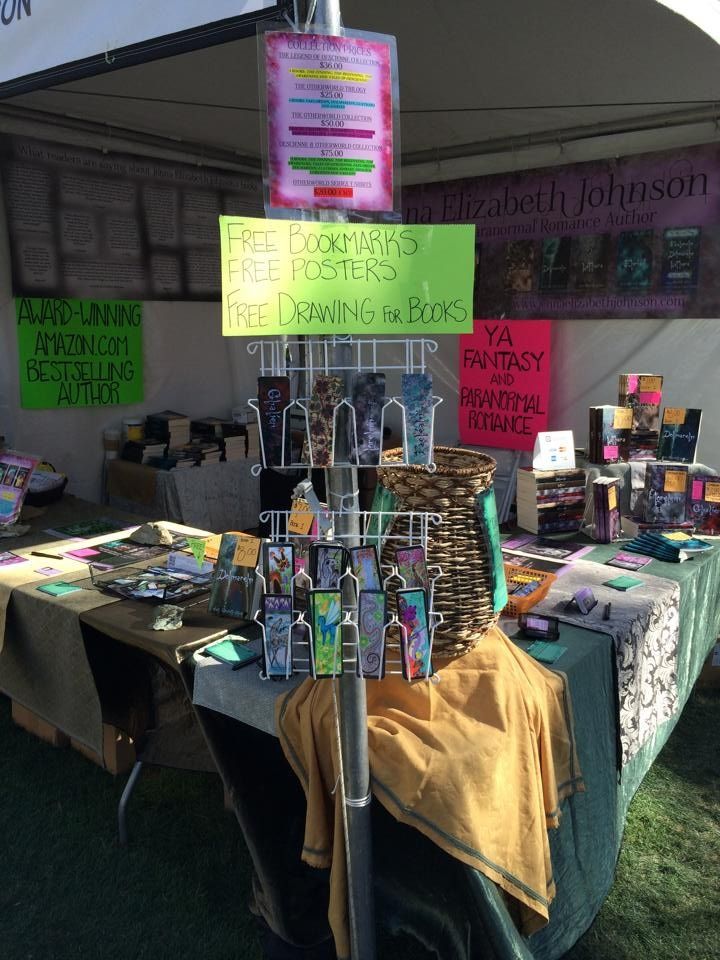 What type of success have you had?
I have had a mixed amount of success when it comes to festivals and fairs. I feel I always do well at the bigger book fairs (LA Times Festival of Books being the largest) in the sense that I get a lot of exposure and experience a decent amount of sales. I never plan to make a profit at these events, but having my books presented for potential readers to find (even if that means they are picking up a bookmark to check the books out later) is a good thing.
What type of items do you take to the fair?
I always have several copies of my books for sale (some of them for display purposes). I also bring bookmarks and posters that I give away for free. Another thing I do is host a free book drawing to help generate interest for the series. With regards to the booth itself, I make sure to bring lots of decor (fabrics in colors that match my theme for the tables, as well as extra fabric for accent colors). I also have a few plush dragons to go along with my Oescienne series (since it features dragons). Another must is a large banner featuring my name and book cover images as well as smaller ones with some readers' reviews.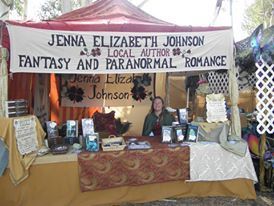 How do you find out about fairs?
I usually do a Google search for fairs in my area or within a reasonable driving distance from where I live. I don't always look for book fairs and festivals, but other such events that might work well for me (Renaissance Fairs, Comicons, local craft fairs etc.). It is a good idea to try out your local craft fairs that don't necessarily focus on books because then you don't have other book vendors to compete against.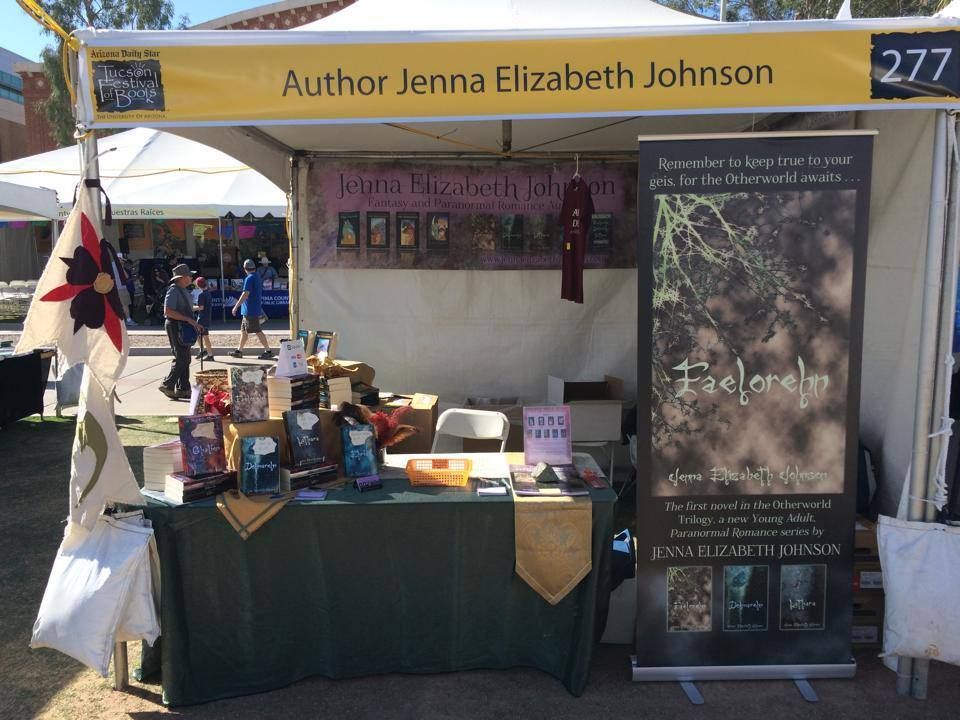 Do fairs increase your sales?
I haven't really seen an obvious increase in sales after attending book fairs, but I still think it's important to attend them. Not only are they a blast to take part in, but it is just one more way to get my name as an author and the books themselves out there in front of potential readers. Plus, it gives me a chance to meet some of my readers in person and talk to them about writing. One more advantage, especially for the really introverted, is that public book events give us the chance to come out of our shells and practice our public relation skills (something every author needs to become good at :)).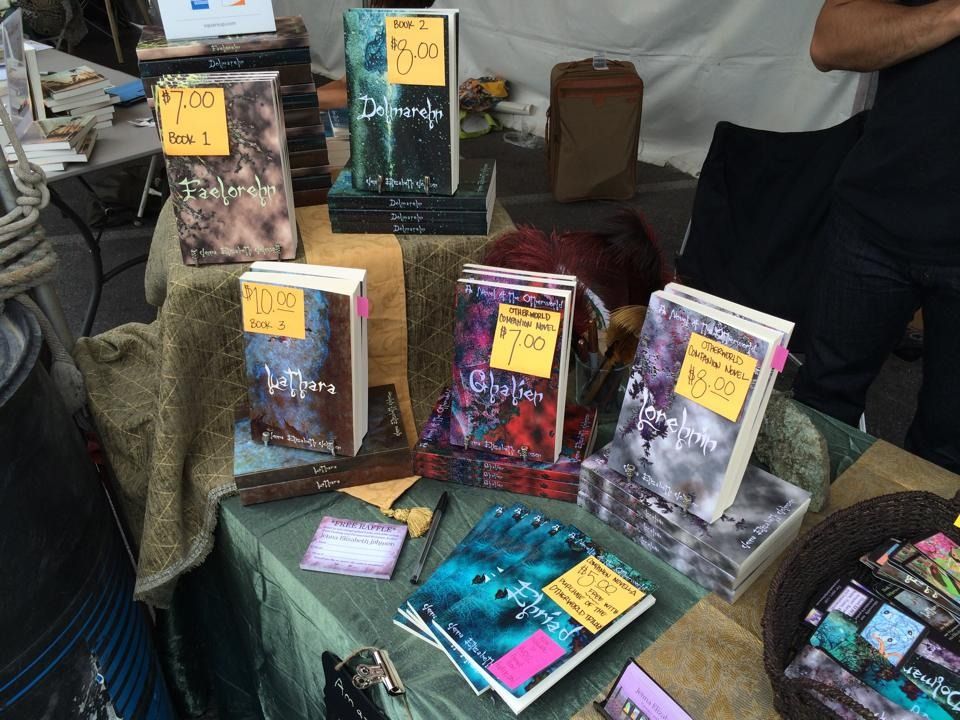 Or is it more about just meeting your readers?
I'd say it's half marketing my product and brand and half meeting readers and potential readers. It's nice to make a profit with book sales, but that very rarely happens and that is not my end goal. I hope that meeting readers and potential readers will interest them into looking into my books online (most of my sales are ebook sales and I make sure to have that information on the bookmarks and other items I hand out).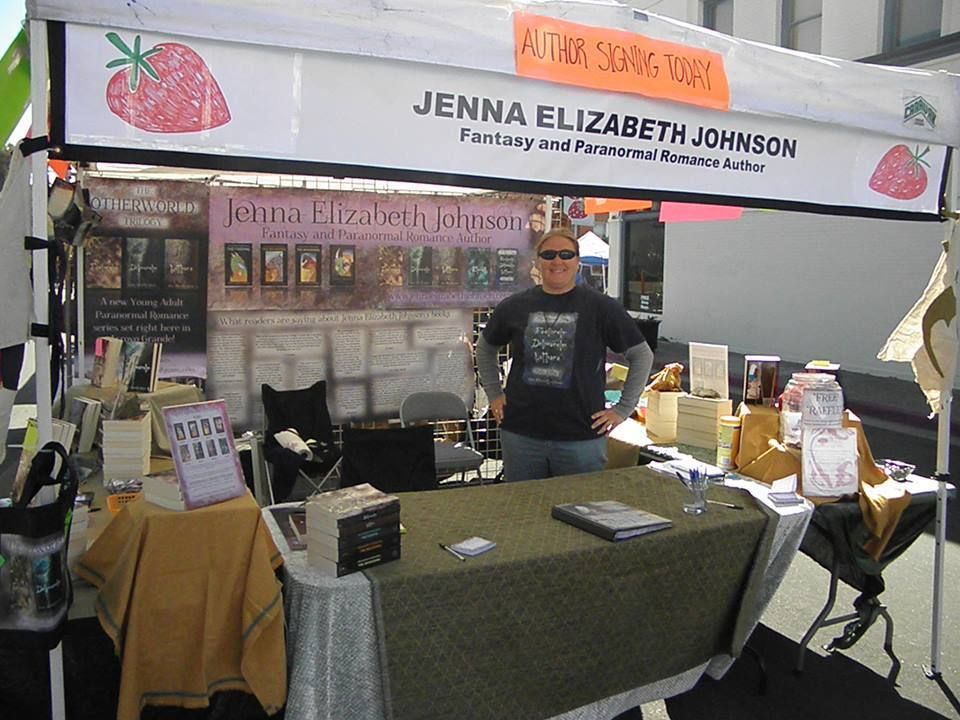 What is the best advice for author who are consider doing fairs?
Don't go halfway. If you get a booth at a fair such as the LA Times Festival of Books, make sure you put in the time and money to make your booth look as professional as possible. I've seen several booths that are nothing more than a plain table covering and a banner with very basic information on it. As a fair or festival attendee, I'm going to walk right by that booth because it has hardly anything to interest me. Get a nice banner made with your name and book covers on it. Invest in some colorful fabric that reflects your style. Have bookmarks made and purchase some neon poster boards to attract attention. It can be a little on the expensive side, but it can be done and it's definitely worth it if you want to attract curious readers. Start with something small at a small fair and learn as you go. Keep note of what works and what you might want to include next time. Every time I attend a festival I think of something new to incorporate into my theme/set up and I try my best to make sure I've included it the next time I go to a fair.
Wow, what great information,
Thanks Jenna for sharing your knowledge with us,
Tina
--