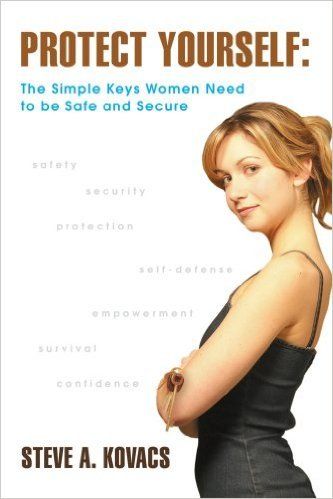 I had the pleasure of being on Steve talk radio. Some of you may have heard my interview. Now I'd like to tell you about Steve's book.
Drawing on his professional experience in helping women learn self-defense, author Steve Kovacs offers a practical, encouraging guide for women in Protect Yourself: The Simple Keys Women Need to be Safe and Secure.
Most women's safety guides cover the specifics of fighting off attackers. But Protect Yourself focuses on commonsense strategies women can implement daily. By taking certain precautions and adapting specific behaviors, women can greatly increase their chances of avoiding violence.
A former police officer who himself was a two-time victim of violent crime at a young age, Kovacs offers a practical approach to learning self-defense and discusses key issues:
What criminals look forHome securitySafety while on the goTools to protect women
Defending yourself in an attack.
The real foundation for women's self protection is the ability to identify certain attitudes, behaviors, and universal truths. Understanding these concepts is simple yet essential to helping women of all ages in developing characteristics and thinking patterns that will enable them to lead safer, more empowered lives.
Don't become a victim of violence-let Protect Yourself: The Simple Keys Women Need to be Safe and Secure teach you to protect yourself!
Available at
Steve's social sites:
Thanks Steve for sharing your book with us,
Tina