Ten Tantalizing Tales Celebrating Women who Have Loved, Lost and Triumphed!
Meet two more of the TEN authors in Peace, Love, & Romance

Christine Ardigo
–
I'm a registered dietitian/personal trainer who writes Women's Fiction novels in my spare time. When weight lifting, rock climbing, white-water rafting, and jumping out of airplanes wasn't enough, I decided to fulfill a dream I had as a child: to write a book.
I've lived in New York my entire life and can't imagine living anywhere else. I have the beaches, the bay and the city, all a half hour away. I've built memories here with my husband, two silly daughters and a bunch of crazy friends, all whom I love very much.

Robyn Rose
-
Robyn Roze lives amongst the cornfields of the Midwest and telecommutes as an accountant. Her passion is writing romantic women's fiction with enough steam to fog a Kindle screen. Writing was a childhood dream of Robyn's. She won creative writing awards as a girl and teachers encouraged her to pursue it as a career. Robyn's stories contain one key element that her readers love: a strong, independent heroine.
When she's not spending time with her fictional families, she loves to spend time with her real one: her high school sweetheart, their two moody teenagers, and a pampered rescue mutt.
Cheating to Survive
– Christine Ardigo
Cheating to Survive
weaves the story of three Norlyn Plains Hospital coworkers and their seemingly perfect lives. However, their marriages are anything but ideal. When they decide to cheat on their husbands, will they find happiness or be destroyed by the consequences? Christine Ardigo handles infidelity realistically and humorously. It will resonate in some way with every woman on the planet.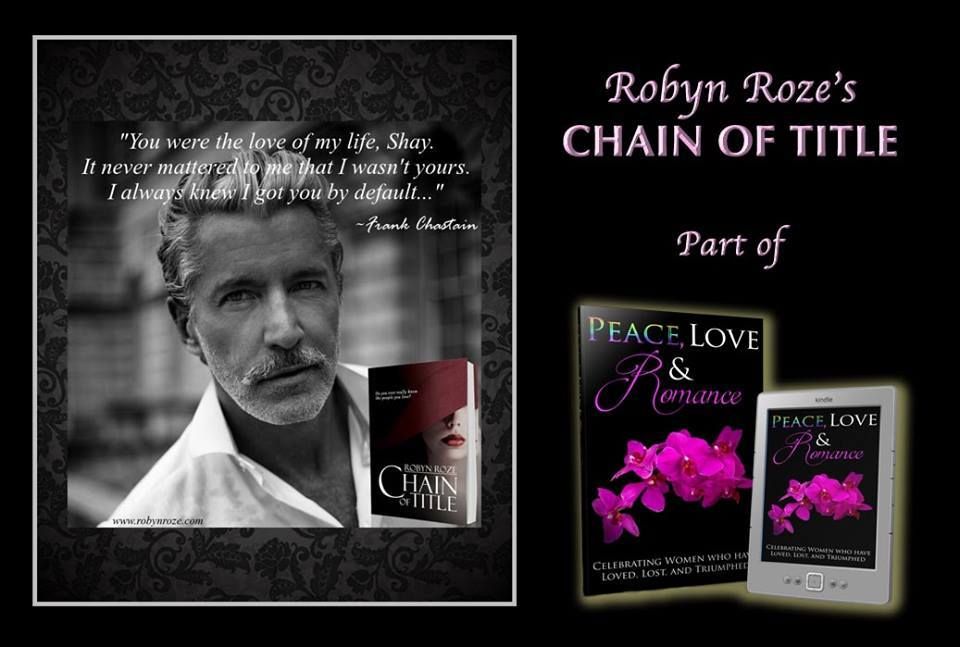 Chain of Title
– Robyn Roze
Newly divorced Shayna wants adventure, and Sean wants her. But the revelation of her ex-husband's dirty secret sets off a chain of events with deadly consequences that reveals who Sean really is and leaves Shayna to question how well she knew either man. Robyn Roze weaves a story of love, loss, betrayal, and ultimately forgiveness.
Buy Links for Peace, Love & Romance:
Connect with Christine and Robyn on social media: