The Lawman's Christmas Proposal,
the latest book in the Hitching Post Hotel series by Barbara White Daille, releases today in print and e-book formats!
From the cover of The Lawman's Christmas Proposal:
Mitch Weston's back in Cowboy Creek, and self-proclaimed matchmaker Jed Garland has his single granddaughter Andi on his mind. Mitch is a lawman, good with the little ones and easy on the eyes. He and Andi were high school sweethearts, for heaven's sake! Why can't they see they're perfect for each other?
Because Andi already lost one husband to a dangerous job, and now she's all about playing it safe, for her sake and her children's. Being a cop is everything to Mitch. After discovering Jed's plan, Mitch and Andi come up with their own: they'll pretend to get engaged and then break up due to irreconcilable differences. Jed's got his work cut out for him—because this match needs a Christmas miracle!
Excerpt:
At their first meeting in years, it's soon evident that Mitch and Andi's long-ago summer fling is definitely
not
a thing of the past:
She kissed Mitch as desperately as he kissed her, without a thought for her tender lip or her obligations or anything but how she'd always felt when he held her. He was broader now, sturdier, more muscled…and an even better kisser.
Reluctantly, she pulled herself together, resting her hands on his wide shoulders to anchor herself. No, to prepare herself. Finally, she pushed away.
Her legs trembling, she went down the rest of the steps, fighting the urge to raise her hand to her mouth. To touch the warmth he had left against her lips. To hold back the words she would not and couldn't afford to say.
With unsteady hands, she smoothed her hair as she attempted to catch her breath. "Are you crazy? It's broad daylight and we're out here in the open and anyone could have seen us. I told you I don't want to fix you."

Liar

.

"So just what was that supposed to prove?"
"I thought it might help speed the healing."
"No, my knee." His chest rose, as if he were struggling with his breathing, too. He gave her a crooked smile. "All right, that was also to prove you haven't forgotten me any more than I've forgotten you."
"Maybe I haven't. They say you never forget your—" first lo

ve

"—first kiss. But I've had other kisses since then."
He whistled. "That's cold, Andi."
She stiffened. "What do you mean?"
"C'mon, don't play dumb with me." His laugh sounded strained. "You kissed me back just now."
"We always have choices." For a moment, his face hardened and his eyes looked bleak.
"I don't think so. Not always." He was remembering their past. Good. She wouldn't have to lay things out for him. And hopefully, once she had finished here, she would never again have to face a sneak attack on her pitifully weak defenses.

Find the book here: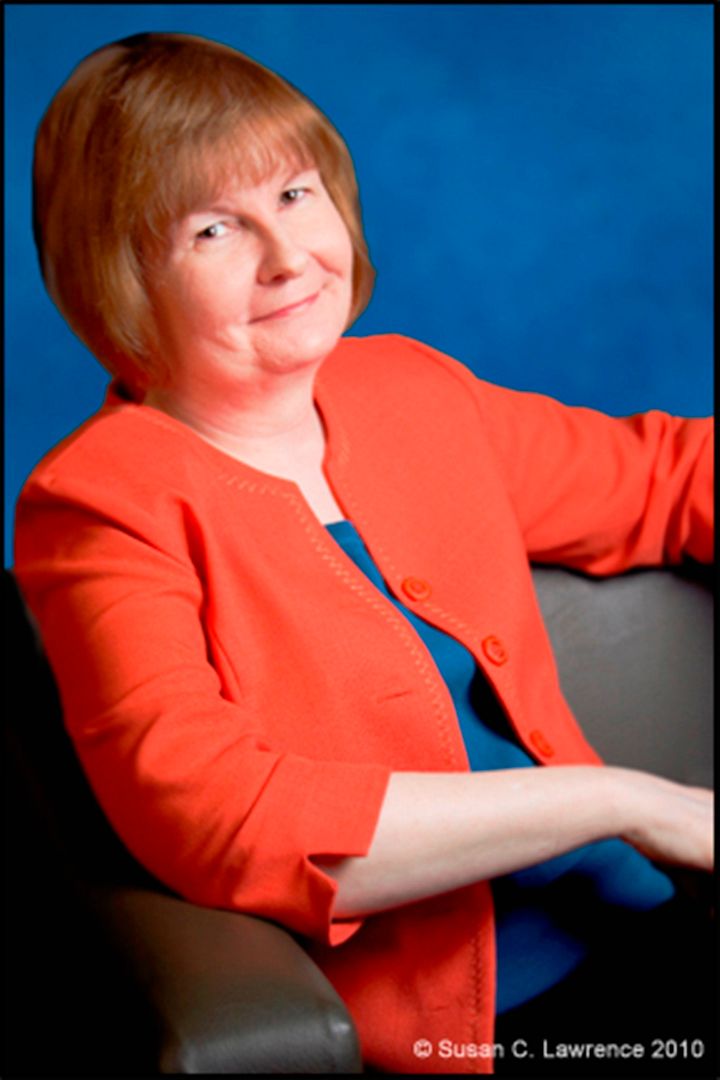 About the Author:
Barbara White Daille
lives with her husband in the sunny Southwest. Though they love the warm winters and the lizards in their front yard, they haven't gotten used to the scorpions in the bathroom.
Barbara's new series, The Hitching Post Hotel, features a matchmaking grandpa determined to see his three granddaughters wed. The series began with The Cowboy's Little Surprise and A Rancher of Her Own, and The Lawman's Christmas Proposal debuts today. Additional books in the series will be coming up next year.
Find Barbara online here:
Website

http://www.barbarawhitedaille.com
Blog

http://www.barbarawhitedaille.com/blog
Newsletter

http://www.barbarawhitedaille.com/newsletter
Twitter

https://twitter.com/BarbaraWDaille
Facebook

http://www.facebook.com/barbarawhitedaille
Goodreads
http://www.goodreads.com/BarbaraWhiteDaille
Amazon Author Page
http://www.amazon.com/Barbara-White-Daille/e/B002J6B0QQ