Ten Tantalizing Tales Celebrating Women who Have Loved, Lost and Triumphed!
Meet the last two of 10 authors featured in Peace, Love, & Romance: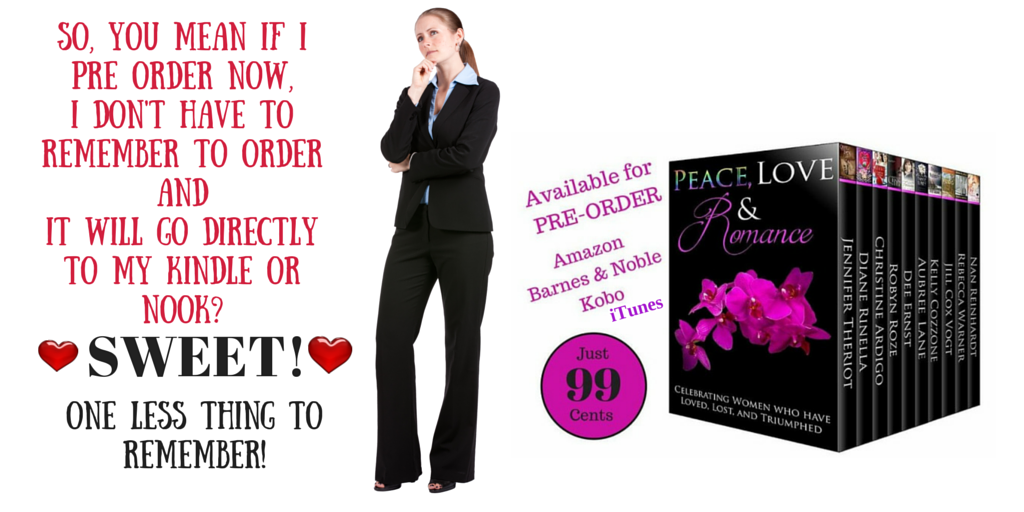 Jennifer Theriot
–
Jennifer Theriot hails from the Great State of Texas. She is a career woman, working as CFO of a Texas based real estate investment firm by day and does her writing at nights and on weekends. In her limited spare time, Jennifer enjoys being outdoors; preferably somewhere on a beach curled up with a good book. Spending time with family and friends, listening to music, watching a baseball game and enjoying a good bottle of wine are usually on her to-do lists. She's mom to three grown children and 'MiMi' to three (soon to be four) grandkids – all of whom she adores!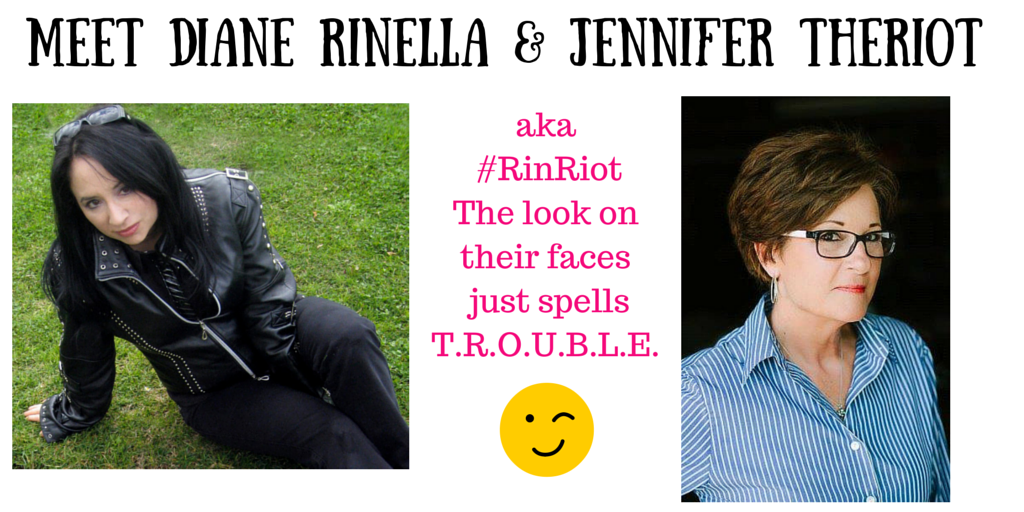 Diane Rinella
-
Enjoying San Francisco as a backdrop, the ghosts in Diane's 150-year old Victorian home augment the chorus in her head. With insomnia as their catalyst, these voices have become multifarious characters that haunt her well into the sun's crowning hours, refusing to let go until they have manipulated her into succumbing to their whims. Her experiences as an actress, business owner, artisan cake designer, software project manager, Internet radio disc jockey, vintage rock n' roll journalist/fan girl, and lover of dark and quirky personalities influence heridiosyncratic writing.
Out of the Box Regifted
–
Jennifer Theriot (Amazon Bestselling Author)
Olivia Petersen thought her life had ended the day her husband walked out. Little did she know, it had only just begun….
With a new beginning on the horizon for Olivia and Ash, what could possibly stop them from finding their happily-ever-after? In the midst of joy, this blended family finds they have to trust in love and family bonds to get them through what is coming next…or self-destruct. How long can Ash keep parts of his life hidden from those who love him?
Scary Modsters and Creepy Freaks – Diane Rinella (Amazon International Bestselling Author, two category Amazon Hot 100 Author)
Rosalyn is ridiculed for her eclectic wardrobe and unconventional music collection. Niles's offbeat character is her perfect complement. Sadly his flaws equate to relationship suicide. When Niles learns he can overcome his obstacles by helping the ghost of deceased rock deity Peter Lane avenge murder, how far will he go to secure Rosalyn's heart?
Buy Links for Peace, Love & Romance:
Connect with Jennifer and Diane on social media:
Thanks ladies for stopping by and best of luck with your box set,
Tina