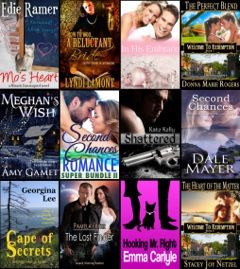 She licked her lips then plunged ahead. "I know how these things work. Arranged marriages, that is. I won't expect fidelity from you."
His shocked expression surprised her. "Is that what you think, Lydia?
That I'm marrying you with the intention of cheating on you?"
"Perhaps not now," she said. "But in a few years… It's not as if ours is a love match. I won't cut up a fuss if you decide to take a mistress. As long as you are discreet."
"How very… sophisticated of you," he said, his tone dry enough to parch a desert.
She took a deep breath before continuing. "And once I've produced the requisite heir and spare, I assume I'll be free to seek my pleasure elsewhere."
The thunderous look on his face startled her and she stepped back.
"You will do no such thing," he said fiercely, reaching for her. "Ours may not be a love match now, but I fully intend to see it turns into one."
With that, he pulled her into his embrace, trapping her arms between them as his encircled her shoulders and waist.
Covering her mouth with his, he kissed her with a heady combination of passion and anger. Her resistance crumbled in the face of his onslaught. She clutched at his lapels and returned his kiss, even parting her lips when his tongue probed them. Overwhelmed by the sensations his lips provoked, she let her eyes drift shut as she clung to him.
When he let her go, he was still visibly upset. "There will be no more talk of infidelity. Have I made myself clear, Lydia?"
Author bio:
Lyndi Lamont is the racy alter ego of author Linda McLaughlin, who writes historical and Regency Romance. Since becoming Lyndi Lamont, she has discovered that writing sexy romance is a license to be naughty, at least between the pages of a book.
Find her online at: