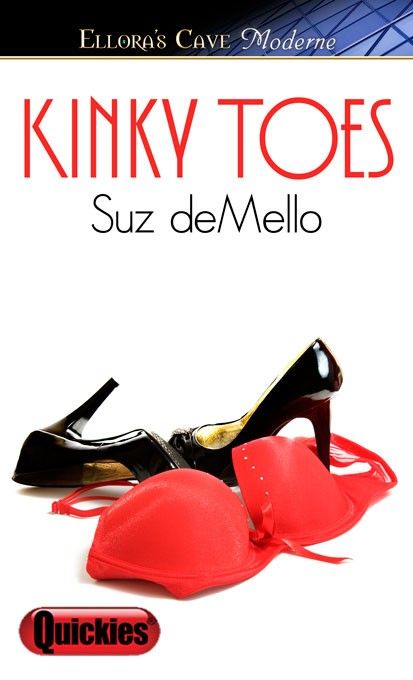 Genre: contemporary erotic romance
Shelbie Nathanson resents Rick Saldano's ascension to C.O.O. of her family's shoe company, a job she's wanted all her life. But she can't resist his red-hot, sexy style of lovemaking... one that focuses on her passion: shoes.

​
Excerpt
Here's a sexy snippet to pique your interest:
The moment they were alone in the elevator, she sprang at him and pressed her lips against his. He wrapped his arms around her and held her tight as his tongue invaded her mouth. She sucked at him hard, shoving her hands into his hair. He tasted and felt divine.
Her body was aflame, all light and heat, and he picked her up as though she were made of insubstantial fire, weighing nothing. She wrapped her legs around his waist, clinging to his shoulders. His big hands supported her under her ass, and he rubbed and kneaded the cheeks as he walked, continuing to kiss her hard and deep, the thrusts of his tongue presaging what she hoped his cock would be doing very soon.​
Purchase Link

Author Bio
​
Best-selling, award-winning author Suz deMello has written seventeen romance novels in several subgenres, including erotica, comedy, historical, paranormal, mystery and suspense, plus

​many

short stories and non-fiction articles on writing. A freelance editor, she's held the positions of managing editor and senior editor, working for such firms Totally Bound, Liquid Silver Books and Ai Press. She also takes private clients.
Her books have been favorably reviewed in Publishers Weekly, Kirkus and Booklist, won a contest or two, attained the finals of the RITA and hit several bestseller lists.
A former trial attorney, her passion is world travel. She's left the US over a dozen times, including lengthy stints working overseas. She's now writing a vampire tale and planning her next trip.
​
Thanks Suz for sharing your book with us,