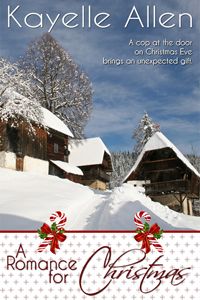 A Romance for Christmas
By Kayelle Allen

A cop at the door on Christmas Eve brings an unexpected gift. A sweet holiday romance showcasing love, loss, and the spirit of giving.It's Christmas Eve, and the end of a year in which everything Dara loves has been lost. Everything but her little girl and a fierce determination to survive. When a cop brings Christmas to her door, he brings another gift she never expected to get.

This giveaway is for everyone. Click below to download an illustrated pdf containing an excerpt, the history of the story, the meaning behind the names, and more. A Romance for Christmas is a sweet holiday romance that makes you feel great about giving.
http://is.gd/rom4cmaspeek
Visit my website to download a free 22p Christmas cookbook you can share with friends. You don't have to sign up for anything, click anything, or register for something. It's really free. Early Merry Christmas!
http://kayelleallen.com/exc-romchristmas.html
Thanks Kayelle for sharing your story with us,
Tina