Title: Tempered Fire (book 3 in Tempered series)
Blurb: Amber Harris is a good girl on the brink of womanhood. Stanley Morrison is a young man at the start of his life. For each other, they have always felt the fireworks that two people in love should feel. But the questions about his past, his pride, and Amber's father might be the end of what could be a strong relationship. As the two try to protect their budding romance, some unlikely but powerful forces conspire to keep them apart. Will they survive the wishes of everyone around them with their relationship intact?
Excerpt:
Emotion burst to life within her and swarmed through Amber until it overflowed, warm and wet down her cheeks.
Stan tasted her tears and groaned. Loosening his hold he broke the kiss, burying his face against her shoulder. "God," he mumbled, lifting his head to meet her gaze. "I'm sorry."
She looked at him wide-eyed and trembling. Anger, desire, and wonder warred in her eyes. She rolled them in an exaggerated gesture. "Now, he apologizes," she muttered then leveled her gaze on him.
"Why haven't you kissed me like that before?"
His breath heaved while he struggled for control. "Didn't think it was proper, still don't."
"So that's what you meant by all lips and teeth and tongue?" she asked, her voice quivering with awe.
He stepped back, touching her cheek with his uninjured hand. "Yes." His voice was raw, eyes fierce. "But not with anger, never with anger. I'm sorry."
Grabbing his hand, she pressed a kiss into it. "Show me," she urged her eyes soft and warm. "Kiss me again, Stanley."
"No, Amber." But she was pressing against him, her arms sliding around his neck. Senses dulled by fatigue, resistance clouded by pain, control ravished and weakened by desire, Stanley succumbed with a groan. Hauling her gently but firmly against him, he buried his lips on hers, this time with devastating tenderness.
His mouth embraced hers tasting, teasing, savoring her lips as though he were a starving man biting into his first meal in weeks. His teeth nipped at her lip, tugging a moan from deep within her. Amber clung to him weakly as they slid to the floor.
Title: Lori's Redemption (short story spin-off of Tempered Fire)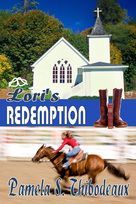 Blurb: Lori Strickland (introduced in Tempered Fire) has always been known as her father's "wild child" with no desire to change until she meets ex-bull-rider-turned-preacher Rafe Judson. Her attempts to change her wanton ways come to naught until she realizes redemption only comes with true repentance.
Excerpt: Lori headed toward Recluse, Wyoming after another round of rodeos where the cash and prizes vaulted her to the next level of achievement. She hadn't thought of Rafe in months. Hadn't allowed herself to think of him, and wouldn't indulge in useless fantasies now.
She'd made peace with the fact she was nothing more than a bad seed and there was no way around it. Oh she tried to be good. She stayed out of the bars for weeks on end, attended the prayer services before or after each rodeo when available, even visited with a group of supposedly devout believers who traveled a state-wide circuit within the national itinerary, but nothing seemed to help or make an impact on her life. Nor had she found the support she'd hoped, only judgment and criticism. Answers to her questions only incited debates until she was scorned for her doubt and unbelief or shunned completely. Maverick was right when he said there was no in between and since she couldn't succeed at being good, Lori figured she'd be bad.
Just as she had all of her life.
More than once she thought about calling Stanley or Amber or even Lexie for counsel, but was too ashamed to admit the total mess her life was in. She even considered quitting. Just give up and go home. But she was too close to making pro status, too close to the culmination of the dream that began in her heart nearly four years ago.
A dream she once thought came as a directive from God.
God didn't give success to losers; the devil lured them into it then left them to their own devices no matter how hard they tried to be good. Besides, even at her best, there was no way she'd ever be good enough for a preacher.
Deeper Shopping
http://bit.ly/14Hm4Cs
Author bio: Award-winning author, Pamela S. Thibodeaux is the Co-Founder and a lifetime member of Bayou Writers Group in Lake Charles, Louisiana. Multi-published in romantic fiction as well as creative non-fiction, her writing has been tagged as, "Inspirational with an Edge!" ™ and reviewed as "steamier and grittier than the typical Christian novel without decreasing the message."
Thanks Pam for sharing,
Tina