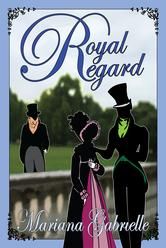 After fifteen years roaming the globe, the Countess of Huntleigh returns to England with her dying husband. She soon finds herself plagued by terrible troubles: a new title, estate, and sizable fortune; marked attentions from the marriage mart; the long-awaited reunion with her loving family; and a growing friendship with King George IV.
Settling into her new life, this shy-but-not-timid, not-so-young lady faces society's censure, the Earl's decline, false friends with wicked agendas, and the singular sufferings of a world-wise wallflower. Guided by her well-meaning husband, subject to interference by a meddlesome monarch, she must now choose the dastardly rogue who says he loves her, the charming French devil with a silver tongue, or the quiet country life she has traveled the world to find.
Amazon
:

http://amzn.to/1ySFAJi
Kobo
:

http://bit.ly/1yZogCz
Goodreads
:
https://www.goodreads.com/book/show/22732470-royal-regard
Facebook
: https://www.facebook.com/MariChristieAuthor
Twitter
: https://twitter.com/mchristieauthor
Pinterest
: http://www.pinterest.com/marichristie/
Free e-book of Royal Regard, .epub or .mobi
Mariana Gabrielle is a pseudonym for Mari Christie, a mainstream historical and Regency romance writer. She is also a professional writer, editor, and graphic designer with twenty years' experience and a Bachelor's in Writing from the University of Colorado Denver, summa cum laude. She lives in Denver, Colorado with two kittens who have no respect at all for writing time.
"I think you are making a mockery of me, Sir. You are flirting shamelessly at every party, and now right in front of my husband. You must desist."
"Nick, please—Wellbridge, if you prefer—and you are entirely correct. I would much rather flirt with you behind his back." He leaned in closer to her ear, "When we are in front of him, I am afraid your sweet blushes will give us away." The scent of flowers rose from her hair. Lavender. Maybe lilacs. Maybe both. He breathed deeply. Definitely both. "I cannot allow you to expose our secret, Lady Huntleigh, for I have sinful designs on you."
Bella's slipper caught on the waxed floor, throwing her off-balance. Taking advantage of the opportunity, he caressed her barely bared collarbone. She nearly fell, pulling away, so he held her waist more firmly, drawing her closer to encourage her shivers and gooseflesh.
"You said you had no designs on me! You swore by the Knight's Creed!"
He leaned in to murmur, "I am not a knight, my sweet."
With a bit less wallflower and a bit more worldly woman, she laughed, "Sir Satyr, I'm sure, charter member of the Order of Rakehells, pledged to lead me down the path to depravity."
He stared down at her ripe mouth, wishing they weren't in the middle of a crowded ballroom.