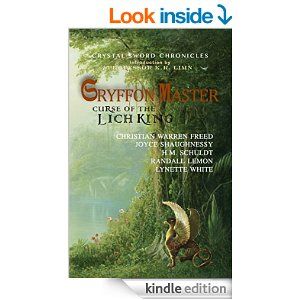 In a jungle far away, there is a strange world where trolls and living skeletons and other mysterious creatures live. Two adventurers, Ragnar and Ahmad, have found themselves transported to this dangerous jungle where an evil dragon named Barrel the Terrible roams, seeking to devour his next victim. Ragnar Olafson is a Viking warrior who must find a way to conquer the Lich King. Ahmad Ibn Fazzat is an Arab soldier who has literally been snatched from the jungle by a flying creature, but it is his destiny to return to help his new acquaintance, the Gryffon Master.
About the Author
Heather Marie Schuldt has published 6 books in less than 2 years (from February 14, 2013 - September 18, 2014).
She writes fantasy, thriller, and contemporary fiction. Her first thirteen short stories are found in the "Giant Tales" books.
Schuldt is the owner and founder of the Giant Tales collection. She is an editor and owns a small publishing company in North Carolina called Professor Limn Books.
Schuldt is the co-author of "GRYFFON MASTER: CURSE OF THE LICH KING,"
a fantasy jungle adventure for ages 12 & up. If you liked "The Hobbit," then you're going to love "Gryffon Master."
Available at Amazon, Barnes & Noble, and other participating bookstores.
Amazon
Barnes & Noble
SPECIAL OFFER! For a limited time, you can get "Gryffon Master" for 99 cents on Kindle.
Her newest release:
"Giant Tales: Dangerous Days" (Book 4) from the Giant Tales 3-Minute Series
Her 7th book will be released this fall:
"Final Ships In the Neighborhood" (Book 2) from the Giant Tales 10-Minute Series
Current Works-In-Progress include:
Giant Tales Wrapped In Fur (finished, in editing)
Darkness In the Neighborhood (finished, in editing)
Giant Tales About Gambling (finished, in editing)
Contact:
Facebook:
Website:
Twitter:
Heather Marie Schuldt
Fiction Author
BLOG:
Fantasy Action Adventure
G
RYFFON MASTER - (BOOK 1)